News
ChEESE participates in EuroHPC Summit Week 2021
29 March 2021
EuroHPC Summit Week (EHPCSW) is an annual event gathers the main technology suppliers and HPC infrastructures to scientific and industrial HPC users in Europe. This year´s edition took place on 22-26 March 2021.
ChEESE participated in EHPCSW 2021 by organising the European Urgent Computing Workshop, which took place on 24 March 2021. Five keynote speakers from different institutions were invited to speak about topics ranging from atmospheric radiological dispersion, urgent tsunami computation, seismic hazard assessment, volcanic ash forecast and advanced prediction of weather extremes. The workshop ended with a panel discussion involving members of ChEESE, VESTEC, LEXIS and ESiWACE, projects that work on urgent computing topics.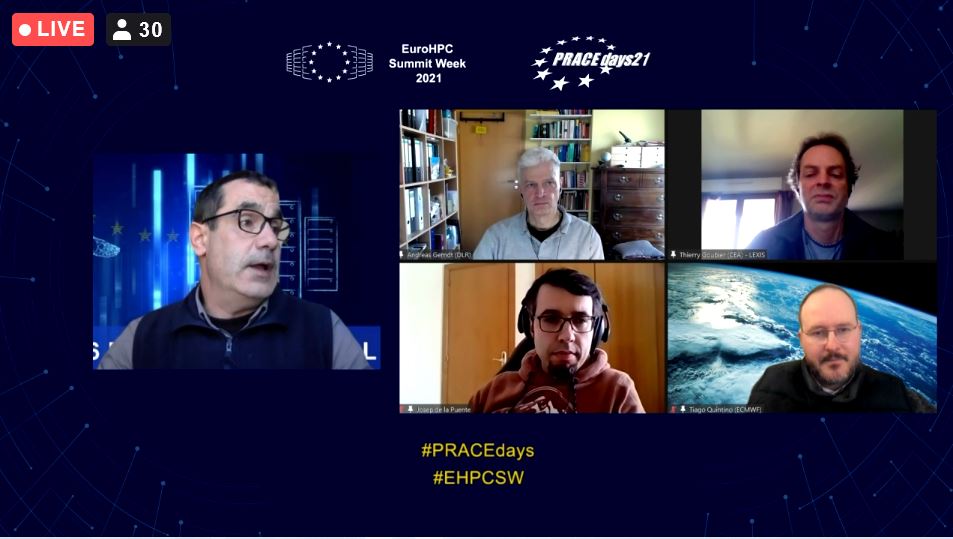 European Urgent Computing Workshop panel discussion with Arnau Folch (ChEESE), Andres Gerndt (VESTEC), Thierry Goubier (LEXIS), Tiago Quintino (ESiWACE) and Josep de la Puente (ChEESE)
Another ChEESE partner that presented at EHPCSW 2021 was Alice-Agnes Gabriel, who won the PRACE Ada Lovelace Award in 2020. Her Ada Lovelace talk "Exploiting exascale computing to unravel multi-physics and multi-scale earthquake dynamics and seismic wave propagation" took place on 26 March 2021.
Ada Lovelace talk by Alice-Agnes Gabriel